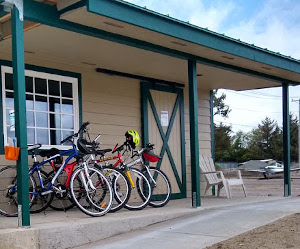 Ground Transportation
Seaside Municipal's parking ramp is less than a block from Highway 101, with easy access to countless North Coast destinations. Options for getting around include:
Walk to any of numerous attractions and restaurants nearby -- Seaside's Gateway Estuary Park is just across the highway to the west, downtown Gearhart is less than a mile NW, and downtown Seaside is a little over 2 miles south. For the lowdown on walking destinations, visit the Attractions section of this site.

Loaner Bikes are in the pilot shed near the parking lot, visit this page for details. Bicycles and surreys can also be rented from several outfits in town; the closest one to the airport is Prom Bike Shop, 503-738-8251, about a 1 mile walk southwest at the corner of 12th and Holladay (the Attractions page describes how to get there from the airport).

Taxi service is inexpensive and usually quick to arrive. Aalpha Shuttle, 503-440-7777; Central Coast Taxi, 541-340-0886; Seaside Road Runners, 971-777-1025; Downtown Coffee Shop Taxi (Warrenton), 503-791-6728; Royal Cab (Astoria), 503-325-5818.

Car Rentals - Lum's Toyota Auto Rental will shuttle you to their location 9m north. Call ahead for a reservation and pickup, 503-861-1144, Not open Sundays. Enterprise and Hertz are a little further north in Astoria; the last time we checked they didn't service Seaside but let us know if you find out otherwise.

Restaurant / Hotel Shuttle - some hotels and restaurants will provide airport pickup for customers, time-permitting. If you have a particular spot in mind, give them a call and let us know how you make out so we can post it here.

The Astoria-Seaside Bus, operated by Sunset Empire Transit 503-861-7433, www.nworegontransit.org runs along highway 101 which goes right past the airport, going south through Seaside to Cannon Beach, and north to Warrenton and Astoria.