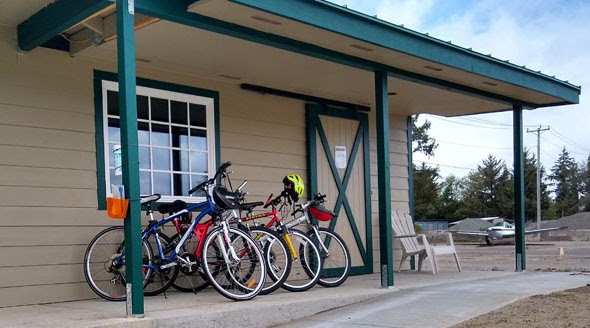 Loaner Bikes
Thanks to the cities of Seaside and Gearhart and numerous friends of the airport, Seaside has a nice collection of donated bicycles along with helmets and locks, for the convenience of fly-in visitors. You'll find them in the pilot shed or out on the porch when the weather is favorable. Before borrowing the bikes, please read the following:
Helmet use is strongly encouraged; several helments of various sizes are inside the shed
Tires - please check and add air if needed, there is a pump and compressor in the shed - riding on low tires is our #1 cause of flats/maintenance
Locks are on all the bikes, be sure to use them when leaving them around town (look for the combination on the shed)
Problems / Repairs - you are responsible for getting bikes back to the airport. Repairs can be made at one of several bike shops in town
Daytime use only - none of the bikes have lights
Donations can be left in the donation box outside the shed; please consider leaving a few bucks to help support our bike program
Most attractions in the local area are within walking or biking distance, and there are maps in the shed to help you find your way around.
If you have questions or comments about our bicycle program, please contact seasideairport@gmail.com.